Seen as either "savage" or "noble" at the dawn of the Enlightenment, hunter-gatherers have been regarded as everything from holdovers from a basal level of human development, to affluent, ecologically-informed foragers.
Last week's death of American missionary John Allen Chau, 26, slain by members of the Sentinelese community using bows and arrows on North Sentinel Island, brought the attention on modern-day hunter-gatherers who have endured in various remote parts of the world and preserved a lifestyle that has inexorably been phased out with the Neolithic Revolution and the transition from hunter-gatherers to farmers and herdsmen that started between 8,000 and 7,000 years ago.
The Sentinelese community is considered the last pre-Neolithic tribe in the world, but there are other communities who maintain a primarily hunter-gatherer existence, and various links and contacts with outsiders. They are small, scattered around the globe, and vulnerable to modern-day civilization's encroachment and, at times, lust for land.
Yet, as recently as the 17th century, there were still around 55 million hunter-gathers living across almost one-third of our planet. In the New World, for example, Native Americans outnumbered settlers by nearly 6 to 1. But their way of life, dating back to the dawn of mankind, was now under threat as new comers move onto their life in the so-called Age of Exploration.
Downfall of the Hunter-Gatherers www.youtube.com
Hadza: Tanzania's Hunter-Gatherers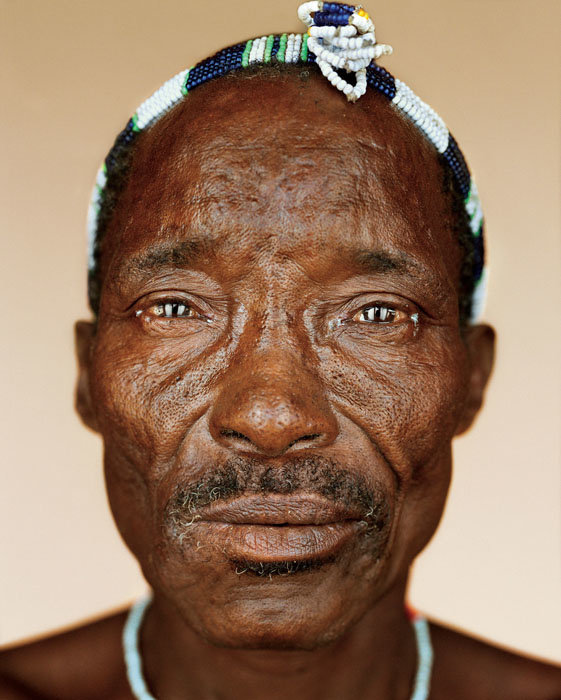 Onwas from the Hadza tribeMartin Schoeller/National Geographic
The home of the Hadza tribe is in northern Tanzania. While some have moved close to villages and taken jobs as farmhands or tour guides, approximately one-quarter of all Hadza remain true hunter-gatherers. They have no crops, no livestock, no permanent shelters. They live just south of the same section of the valley in which some of the oldest fossil evidence of early humans has been found. Genetic testing indicates that they may represent one of the primary roots of the human family tree perhaps more than 100,000 years old.

Meakambut: Last of the Cave People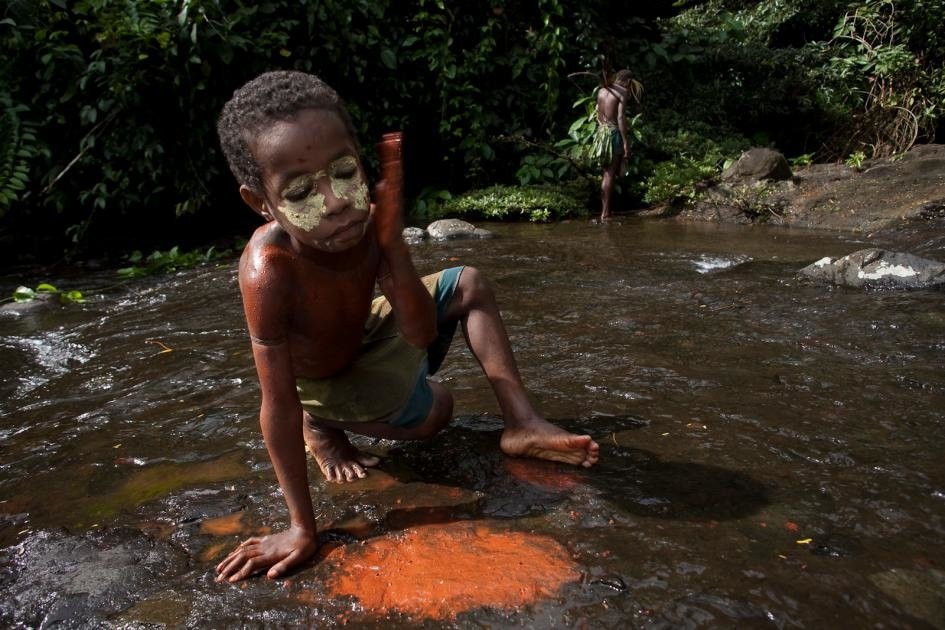 A Meakambut boy with body paintAmy Toensig/National Geographic
The Meakambut, a nomadic people in Papua New Guinea, were unknown to the outside world until the 1960s, when Australian patrols began to trek into the country's most ferocious topography. Gripping a kindling-packed stick with his feet and using a strip of bamboo for friction, a Meakambut man coaxes a cooking fire from soggy terrain. This "fire saw" method is widely practiced through- out Papua New Guinea.

Bushmen: Southern Africa's First People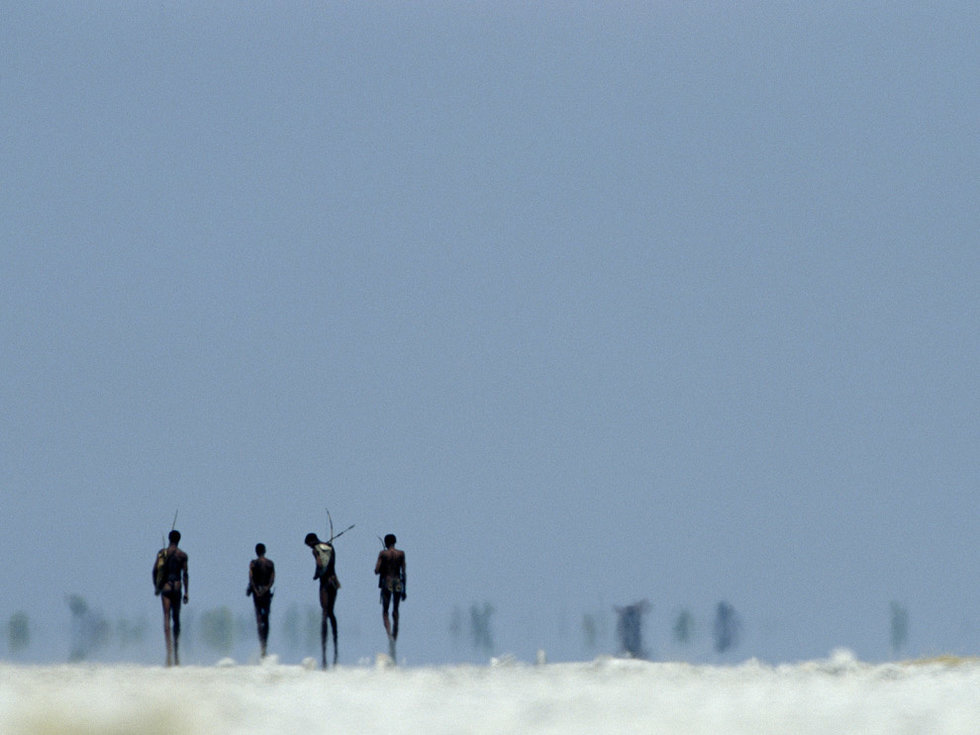 Bushmen of the Kalahari Figures in a mirage, Bushmen wearing skins and carrying bows and arrows cross a salt pan in Namibia's Nyae Nyae Conservancy.Chris Johns/National Geographic
There are about 85,000 Bushmen alive today, teetering on the cusp of cultural extinction, mostly in the remoter reaches of the Kalahari Desert, in Botswana, Namibia, Angola, South Africa, Zimbabwe, and Zambia. They are among the most intensively studied aboriginal people on Earth. This interest is stoked by the idea that the Bushman is one of our last connections with a hunter-gatherer existence, a way of life that was a human universal until some 10,000 years ago, in a time before man domesticated animals or grew crops. A time when man depended directly on nature for survival.

Seen as either "savage" or "noble" at the dawn of the Enlightenment, hunter-gatherers have been regarded as everything from holdovers from a basal level of human development, to affluent, ecologically-informed foragers, as the so-called Paleo Diet or the idea of rewilding—the proposed restoration of ecosystems through the (re-)introduction of species—illustrate.

A civil defence rescue worker carries an injured child after an air strike in the rebel-held town of Hamouria in the besieged Eastern Ghouta region, 19 February 2018 Getty Images
A REVIEW OF THE TWEETS USING THE HASHTAG #SAVEGHOUTA.
Findings from our analysis of the ongoing tweet and retweet activity using the hashtag #saveGhouta help us understand programmatic behavior on Twitter in connection with the current war in Syria and the complexities of the information landscape.
This hashtag has been used in activist campaigns to bring the world's attention to Eastern Ghouta, an area on the outskirt of Syria's capital Damascus where armed rebel groups have been locked in a fight with the Syrian government forces besieging them. Both civilians and opposition fighters are entangled in this dense urban tissue, and civilian casualties from government airstrikes have been rapidly mounting. The tragedy of Ghouta is being promoted for fundraising purposes by groups based in the United States, such as the Syrian American Medical Society. The Society's Facebook verified page prominently features the hashtag on its cover photo and is currently holding fundraisers.
Keep reading...
Show less
The Journey Through Central America And Its Dangers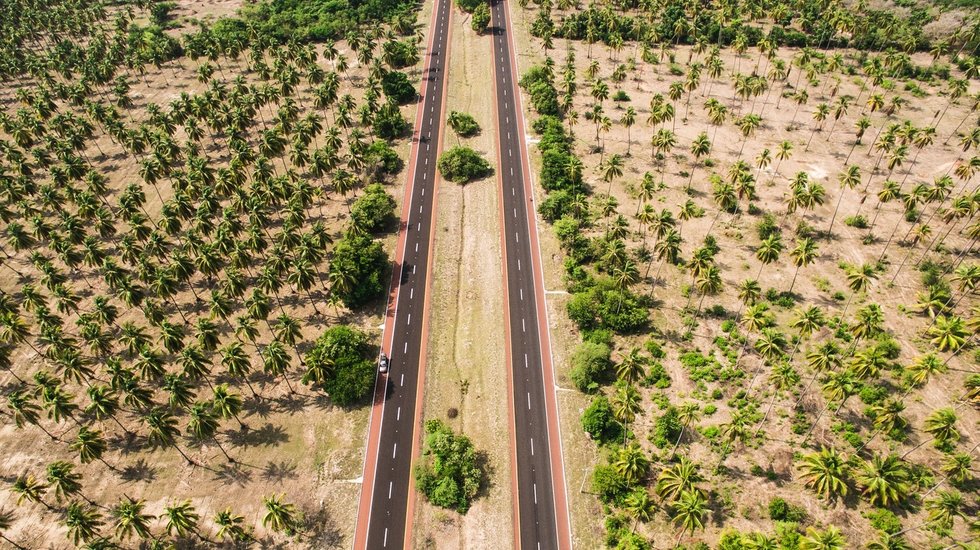 Photo by Pablo Garcia Saldano
The continuous human flow of undocumented children mostly from Central America into the US is concerning issue. However, I want to clarify that my focus on this issue is not the politics related to it. Although important to understand the constant flow of unauthorized immigrants, I want to focus on the struggles and stories of these children that have made the dangerous journey in search for a better life or in some cases the chance to survived.
It is not an exaggeration to say many children escaped and embark on the dangerous journey, because staying in their neighborhoods, cities, or country is just as dangerous or more. This is exactly what undocumented parents in the US said to Prensa Libre, a prestigious newspaper in Guatemala, to justify paying coyotes to bring their children to the US.
What this government (US) still has not understood is that if we risk bringing our children is because there is no other option. Is either send money to bring our children or for the funeral
(Jose A., in an interview with Prensa Libre, prensa_libre on Twitter)
The political instability, corruption, and gang violence in the Northern triangle (Honduras, El Salvador, and Guatemala) countries and Mexico does not affect the people at the top making decisions behind a desk, but the people at the bottom, living their lives in fear. In the case of these kids there is a thin line between undocumented immigrants and refugees. This is why the stories of Jose and others need to be heard! He was lucky enough to have his two children reach the US safely, but others are not. Even though coyotes promised to deliver the children safely this does not always happens. Many boys are given to gangs and many women are raped or sold as sex slaves. In the case of Leticia Argentina Gonzales, her two daughters (one 12 and the other 10) got lost in the desert along with Leticia's sister-in-law. It was year later that Federal authorities found the remains after the coyotes abandoned them.
Unchanging Extreme Poverty In Central America Throughout The Years (Graphic by gapminder.org)
In The Land Of The Free And The Home Of The Brave?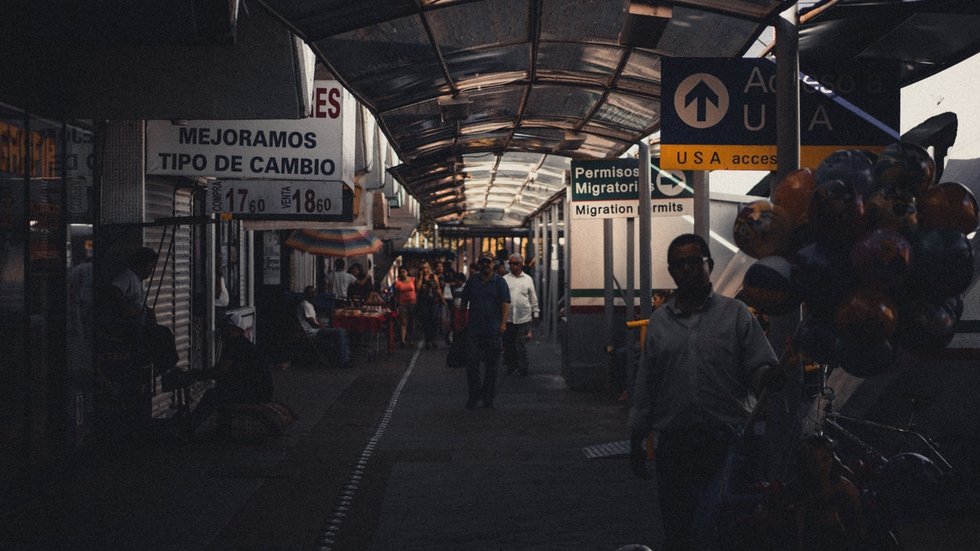 Photo by Andrew Schultz
Once the children have been captured by immigration agents they are sent to detention centers. These detention centers are scattered all over the country's states and cities. The conditions in the centers are not perfect, they are cramped, kids sleep on sleeping bags, and the children are not allowed outside except for 45 minutes for exercise. However, considering the conditions they are used to living in back in their home countries and the dangers they faced on their journeys, these facilities are more than ideal. My criticism is not on the facilities or on the treatment of children, but on the fact that the kids are not provided legal representation and are forced to represent themselves in front of a judge. According to an article in the New York times, thousand of children are not represented by any lawyer or attorney. They are expected to plead for asylum or any other immigration status by themselves in legal systems they do not understand. A 15 year old kid from El Salvador said,
I was afraid I was going to make a mistake [...] When the judge asked me questions, I just shook my head yes and no. I didn't want to say the wrong thing
(In an interview with The New York Times)
At the same time accused killers, rapists, and kidnappers do get representation even if they cannot afford it. Undocumented children accused of breaking immigration law do not get the same legal and human rights that all people deserve!
Syria's very own Woman fighter, fights to protect women's rights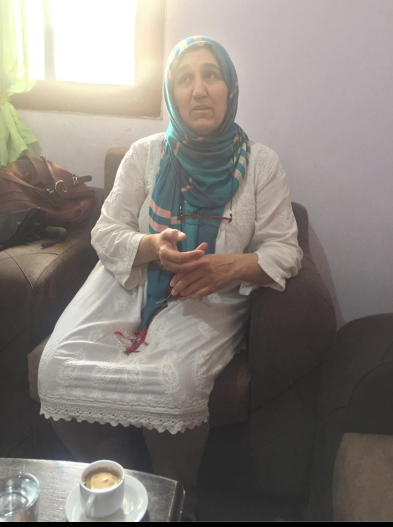 Teacher and women's rights organizer, founder of Syria's first NGO dedicated to gender-based violence
Meet Munaa... since our last interview, the Law to protect women, passed in 2014, is now becoming known. Munaa wants to open projects for women to teach them how to self help and take care of themselves. She wants to get women involved in any financial projects, training them via a computer course, then helping them find a job afterwards in administration.
Unfortunately in 2017 there was a lot of violence towards women against the law raising the challenge that not all men in society accept ideas of protecting women. She has currently informed Christians, Armenians and Arabs of woman's rights and the law with the intention of generating awareness.
Munaa and her organization would go to Villages to educate about the law only leaving some men to only accept with fear. All the while, it is still allowed for men in some Arabic cultures to have have multiple wives. For example, with the Islamic Sharia men can have 4 wives. And as she tries and educates women on the law but they also don't accept the rights because of their fear from man. She is trying to be an active spoken voice for women in an unspoken environment due to the previous laws and rights of her culture.