You most likely know or even support a politician who claims that the elites stick it to the little guy, one that vows to work on behalf of common people. You know, the "We won't take it anymore" kind of guy.
---
They're what political scientists call populists. To many, it's almost a dirty word as it's often associated to demagogues who pretend to empathize with the public and seek votes through unrealistic promises.
Populists come in a variety of forms, some better than the other. A few of them actually deliver.
We've always had populists, even the Romans did. But the increase of wealth inequality and corruption has given them unusual appeal around the world. They're not a unique US phenomenon.
President Trump and Bernie Sanders are two good examples. But, how can two diametrically opposed world views fall under the same label?, why are they trending? and how is the rest of the world dealing with them?
Those are some of the questions Shout! tries to answer in the first part of the series The Men That Lead Us.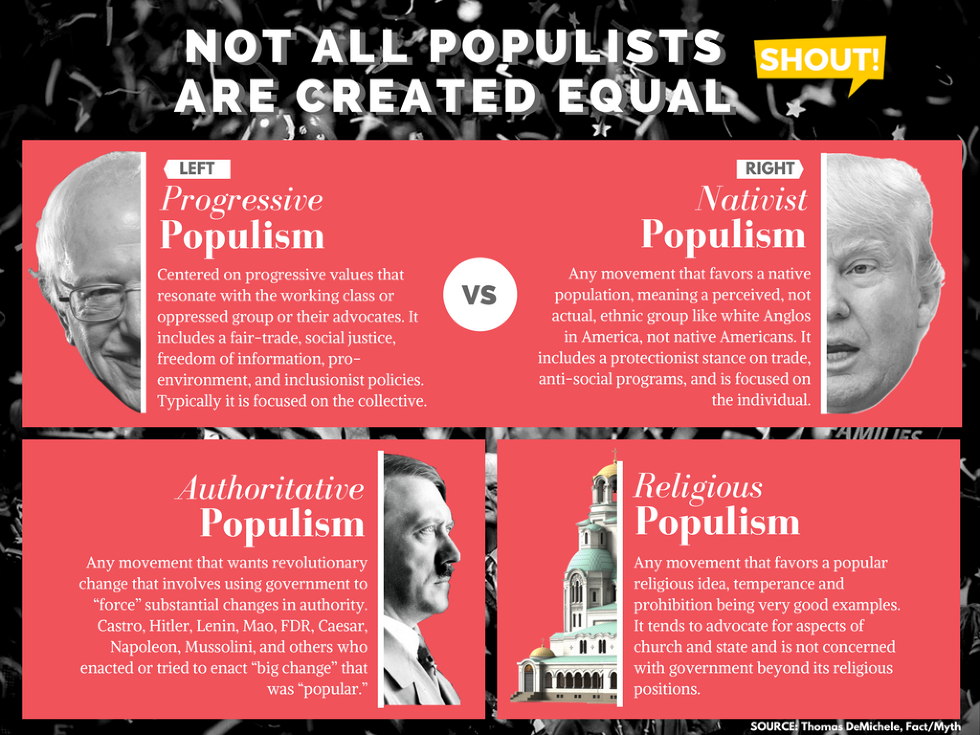 Not all populists are created equal
There's a populist for every taste. By definition, populists are not bound to a specific part of the political spectrum. There are not identifiable economic or social set of conditions that give rise to populism and it's not restricted to a singular social class.
As The Economists explains: "Populists may be militarists, pacifists, admirers of Che Guevara or of Ayn Rand; they may be tree-hugging pipeline opponents or drill-baby-drill climate-change deniers."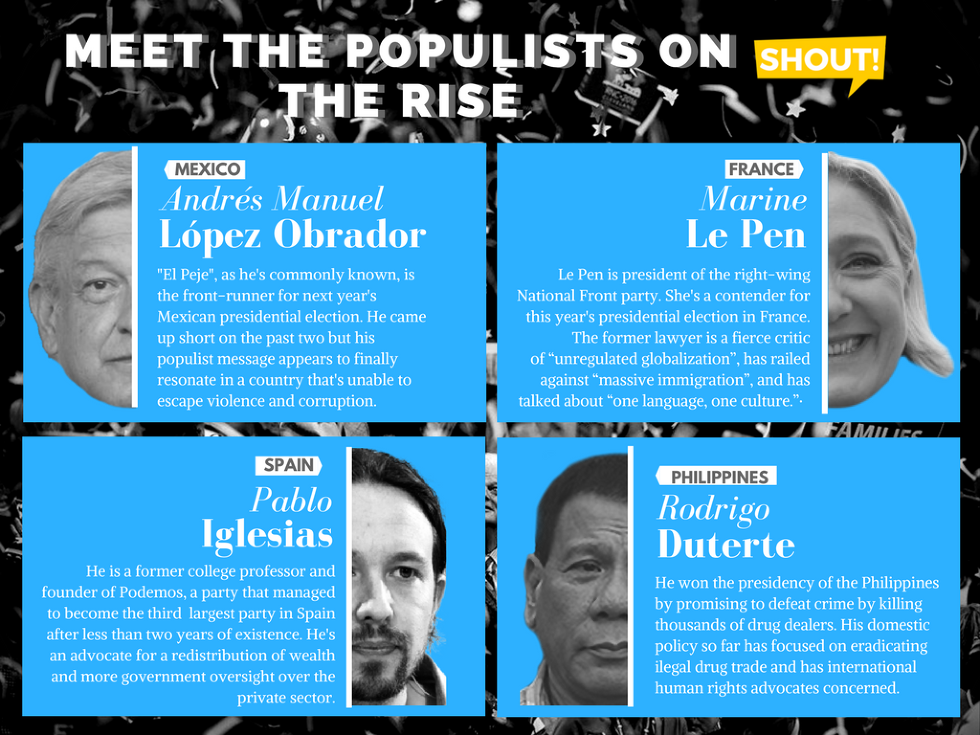 Meet the populists on the rise
From Trump and Bernie in the United Stated, Pablo Iglesias in Spain, Marine Le Pen in France, López Obrador in Mexico and Geert Wilders in the Netherlands, a wave of populists has invaded politics in the West.
Trump promised to "drain the swamp" and vowed to fix a "broken" political system. He promised to always put "America first" and energized the American political right.
On the flip side, Bernie Sanders mobilized the political left by going after big corporations that had "failed" the American people and vowed to fight for the 99% and not the "billionaire" class.
Both messages worked and allowed both presidential campaigns to exceed expectations.
Meanwhile in France, Marine Le Pen is taking some pages of Trump's manual: she claims to be the only french presidential candidate to call "islamic fundamentalism" by it's name and doesn't want to "close the borders", she wants to "have them".
Populism often works
As Werner Mülller, a political scientist at Princeton University, puts it, "while most writers deplore populism, its upside lies in forcing elites to discuss issues they prefer to ignore."
A practical example of this is how Bernie Sanders might not have gotten the Democratic nomination, but he did manage to put a light over a vast array of issues like wealth inequality and put ideas like tuition free college and universal healthcare back on the national debate.
Even Karl Marx predicted it. According to author Thomas DeMichele, populism can be explained by Marx in the sense that populism is the sentiment felt by the "proletariat" against the "bourgeoisie". "It arises from the frustration felt by the working class against the elite class, a manifestation of the bottled rage of the 99.9% against the .01%."