Thousands of refugees are looking to return back to Syria from the northeastern town of Arsal in Lebanon. Syria wants its Refugees to return home and rebuild the country, according to Lebanon's President Joseph Aoun he believes that keeping many refugees in Lebanon is an "existential danger". Making the return of the Refugees to Syria very hopeful and prominent.
Syria imposes a new housing rule called 'Law 10'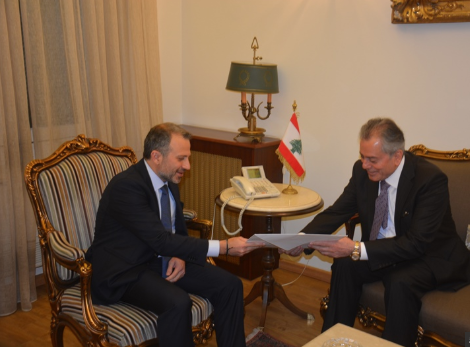 Ali Abdul Karim, Syrian ambassador to Lebanon delivered a letter from the Syrian foreign minister to Lebanon's foreign minister that responded to the questions and concerns about 'Law 10'
Law 10 states that destroyed areas of Syria are to be redeveloped and reconstructed. To prove your claim to property, damaged or destroyed, Syrians must appear in person with newly appointed real estate documents by the government within a year. Meaning the millions of refugees who are still waiting to return might are at risk to lose their homes if they don't return within the year period.
UNCHR discourages refugees, Bassil speaks out.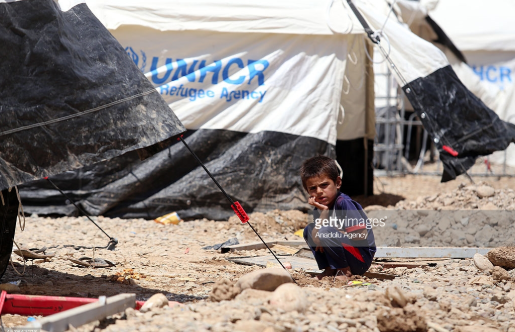 Lebanon's foreign minister wants for the refugees to return to their country but feels as if the UNCHR, United Nations High Commissioner for refugees, has spread fear of returning. 3000 refugees in the town of Arsal were expected to return home however the UNCHR discouraged them by telling them about the poor accommodation and security problems upon return, according to Lebanon's Foreign minister Gebran Bassil.
From refugee... to breakout child star. Meet Zain Al Rafeea. A 12 year-old from Beirut who was a delivery boy before his breakout performance.
Cannes 2018 Jury Prize is about abandoned children and with young Syrian refugee in the main role
'Capharnaüm' by Nadine Labaki wins Jury Prize at #Cannes2018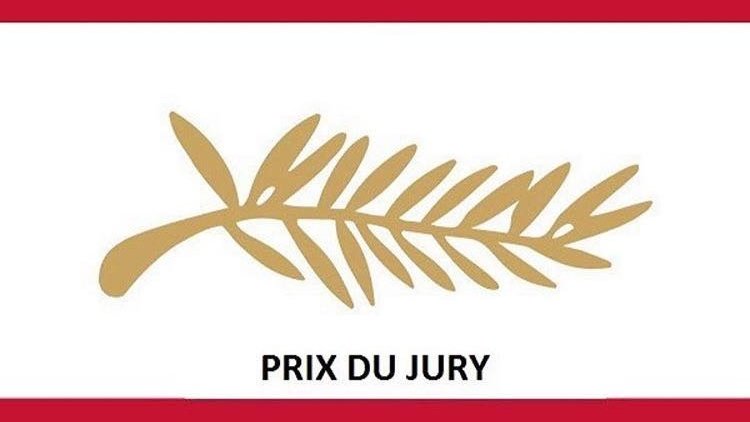 Labaki's Capharnaüm is an Arabic-language film telling the tale of Zain, a 12-year-old boy born into poverty without a birth certificate in Lebanon, who is suing his parents for having brought him into the world without the means to care for him.
'Unloved childhood is the cause of all evil in the world,' says director Nadine Labaki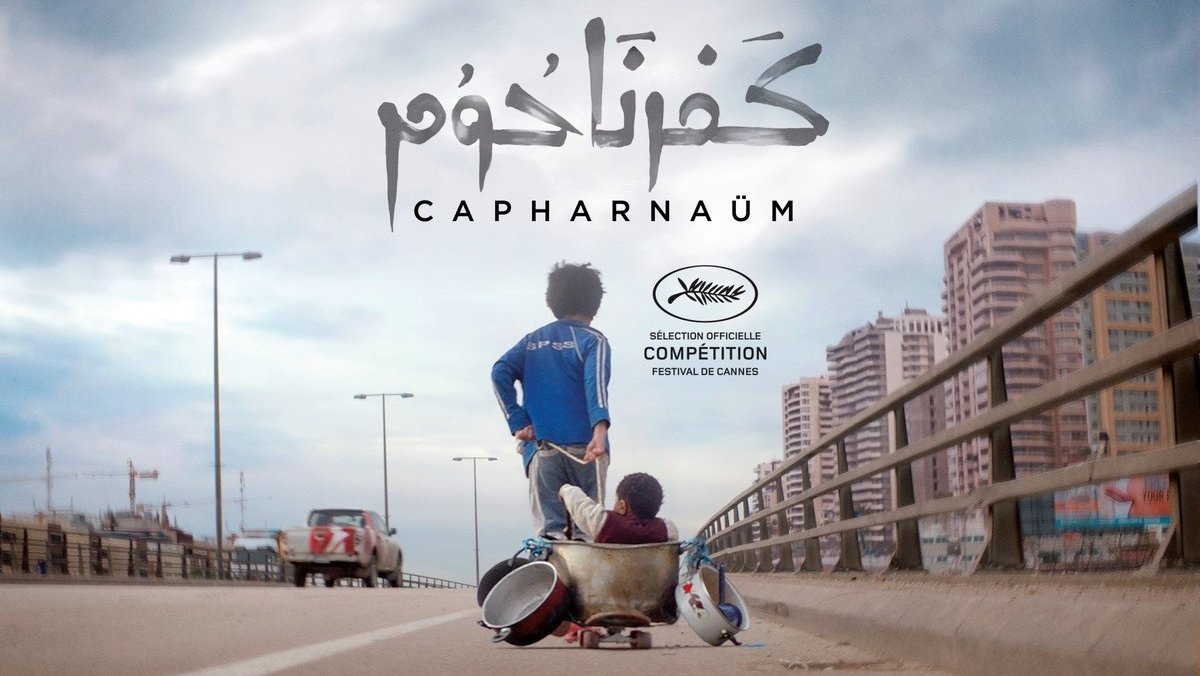 'Je voudrais vous inviter à réfléchir, parce que l'enfance mal aimée est à la base du mal dans le monde.' (Original quote in French)
'I would like to invite you to reflect [...] I hope this film will open a debate,' says Capharnaüm's director, Nadine Labaki.
Watch 'Capharnaüm' trailer
INTERIOR COURTROOM ZAIN, a 12-year-old boy, faces THE JUDGE. THE JUDGE: Why are you suing your own parents? ZAIN: For giving me life.
How a meal 14 000 kilometres removed from a conflict brought members of Australia's Gold Coast community together.
صار بيننا خبز و ملح
The Arabic quote "We share bread and salt" has a deeper message meaning "we are bonded now, as we shared a meal". By sharing a meal, you share not only food, but also your culture, your story, and your customs.
How a meal 14 000 kilometres removed from a conflict brought members of Australia's Gold Coast community together.
In March 2018, Syrian chefs took over the kitchen at a restaurant on the Gold Coast in Australia and guided their guests on a cultural and culinary experience to the old city of Damascus. Approximately 100 people attended the event, 'Dinner in Damascus'.
While Australia may be a country based on immigration, multiculturalism and diversity, it was the first time the majority of the guests tried Syrian food. The chefs made an immense effort to satisfy every taste bud, starting from the traditional aperitive, Tamir Hindi, that they replicated to taste just like in the Syrian markets. The chefs went out of their way to please the eyes with chopped parsley and fresh pomegranate decorating the meals and every aspect of the food presentation was carefully thought out because food presentation is extremely important.
لعين بتاكل
(it means "the eye eats")
Following the traditional Syrian buffet, guests engaged in listening to story-tellers with origins from Syria, Eritrea, Ethiopia, DR Congo, Sudan, Kenya, Greece, China and local Gold Coast artists and entrepreneurs. Guests went live to Damascus to hear from the Watad Educational and Musical Group, a scouting organisation utilising art as an educational tool to enhance the lives and provide psychosocial support to children in Syria. Guests also heard about local projects and organisations working together with displaced people and profits were raised to help refugees in the community through the Refugee Association of Logan.
The story-tellers showed immense courage, as did the chefs. It has been said that senses can restore memories and emotions and remembering the taste of Damascus, in a small, far away Australian city is not an easy task.
Some research has been done on the power-infused relations between hosting and being hosted, between giving and receiving, as well as the politics of food and hospitality and how food can create intimate environments, often in contrast to hostile realities, but more needs to be put into practice. The evening aimed to foster feelings of togetherness and connectivity, beyond borders and stereotypes, providing a platform for the people of the community (and far away) to share their stories and their individuality, which the Sheherazade Gold Coast Belly-dance Academy did so well. Guests jumped out of their seats at the sound of the dabkeh and embraced the food, the stories and the dance.
Dinner in Damascus provided guests on the Gold Coast with an intimate and enlightening experience from which everyone both gained something and gave a part of themselves as well. We hope to repeat this experience. Maybe in your city?
Jovana Mastilovic is a PhD Candidate @GriffLawSchool in Brisbane, Australia. Jovana's PhD research analyzes the impact of securitization on access to asylum in the European Union. Originally from Serbia, her passion concerning migration, mobility and security arose from a diverse personal and professional background. Follow her on Twitter @jomana_va
#FreeThe20: Extended Coverage On Shout! News
In 2015, former United States Ambassador to the United Nations, Samantha Power, announced the #FreeThe20 campaign, with the goal of freeing twenty female political prisoners abroad. Shout! News wants to see where they are now. These women's stories are coming soon. Get ready to be inspired. Sign up for our newsletter on the top right of this page to be notified when our stories are released.
Remember Dr. Kazemi who volunteered at a Syrian refugee camp in Jordan? We edited together a video about his experience! Enjoy, subscribe to our YouTube channel, and share the video!

Read the full article here: http://www.shout.news/what-its-like-to-volunteer-as-a-dentist-in-a-refugee-camp-2531592860.html
DO NOT cut aid to Syria.


[Update: Ambassador Robert Ford responded with the following statement on Twitter]

Former U.S. Ambassador to Syria Robert Ford proposed a policy recommendation that cuts humanitarian aid to Syria. It's part of a strategy, which pressures Damascus to allow the United Nations to deliver aid to both government and opposition areas. This is simplistic and misguided.

Cutting U.N. humanitarian aid to Syria will only achieve two detrimental objectives for U.S. interests. It will cut the aid currently going to opposition-controlled areas, which will hurt millions of civilians who have no one to rely on for aid but the U.N.

For many Syrians inside government-controlled territories, U.N. aid is what keeps them alive. Only a few aid organizations are currently operating in areas controlled by President Bashar Al-Assad because the Syrian regime blocked aid to communities that support the opposition, according to Ambassador Ford and his co-author. The Syria Trust for Development is an organization that distributes aid provided by the U.N. and is chaired by Asma al-Assad, the president's wife.

However, recipients of U.N. aid are not exclusively composed of the regime and its supporters. In fact, most people, businesses, and organizations that are associated with the regime are under sanctions, meaning they are already denied aid. These individuals and entities have already figured out alternative ways to receive funds — either from the Syrian diaspora or countries who sympathize with Al-Assad. Threats to cut humanitarian aid will not work here.
Al-Assad and his gang don't rely on the U.N. or Western organizations for humanitarian aid. Iran and Russia have been providing the Syrian regime with enough financial assistance to keep it afloat (as a failed state, that is). No matter how many millions of dollars worth of aid the U.N. provides, ambassador Ford and his co-author recommend to cut it off. Yet it's a fact that Al-Assad's survival depends on billions of dollars in credit from Iran. Or the many Iranian investments that have been flooding into areas controlled by the regime.
That financial aid is, one might say, beyond imagination. It fueled the riots that recently took place in Iran. With the U.S. and the European Union exiting Idlib and the areas controlled by al-Nusra Front — under its new name, Hayet Tahrir al Sham, an offshoot of al-Qaeda — expect to see more Russian and Iranian funding rushing to fill that void and used as leverage against U.S. interests.
Furthermore, the U.S. will lose the small but not insignificant leverage it has on Al-Assad. Because the regime's survival does not depend on humanitarian aid provided by the U.N., cutting it off will not be enough to compel Al-Assad to change, as Ambassador Ford would like us to believe.
Kahina Souria is a Syrian expert from Damascus with extensive personal and professional network and experience on military, humanitarian and strategic issues in Syria. Follow her on Twitter.
​Are you wondering how exactly you can help refugees and others in need? Have you heard of EmergencyBnB yet?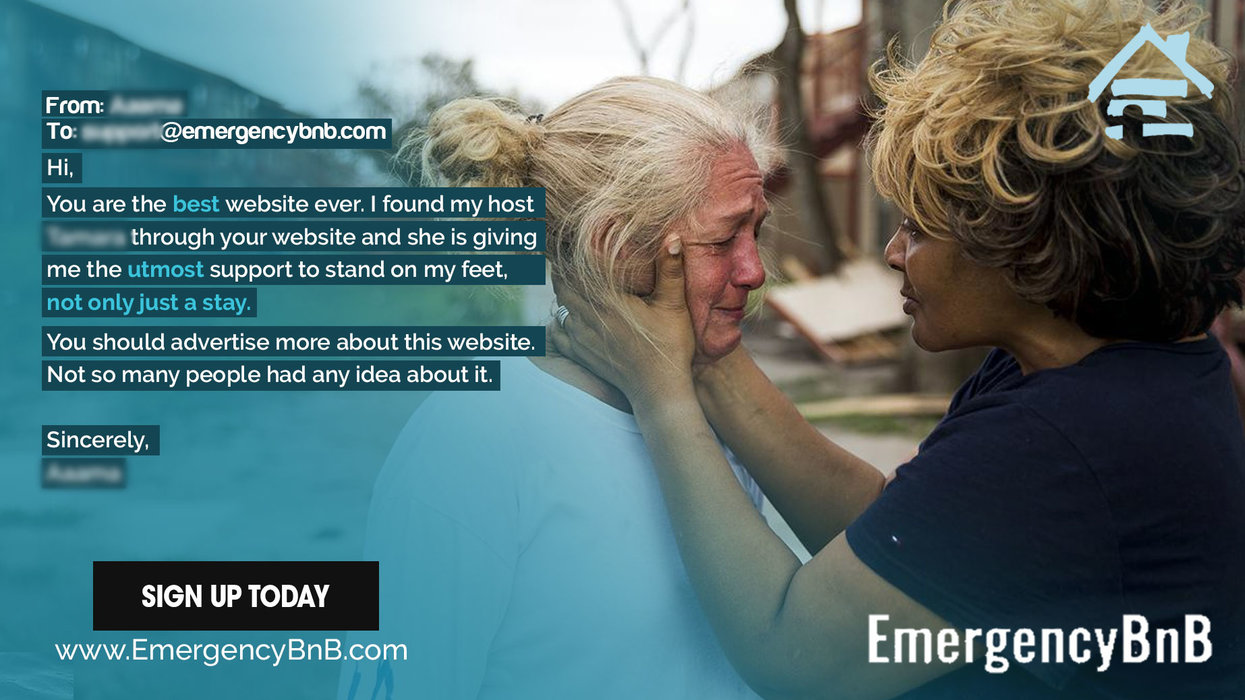 EmergencyBnB is a platform like AirBnB but aimed at refugees, human trafficking victims, people who were impacted by natural disasters, and victims of domestic violence. The website was founded by Amr Arafa, an Egyptian immigrant living in Washington D.C. He wanted to "build a site that makes us a more solid society."

But How Does It Work?
If you have a space to share, you can register on the website as a host. If you are in need of a place to stay for a couple of days for free, you can register and get in contact with hosts. The website is mostly aimed at people who have to be away from home for, for example, asylum hearings, refugees, victims of human trafficking or people running away from abusive relationships.
To prevent people from taking advantage of the situation, you have to show documentation to the host: a refugee passport, a police report or a restraining order. EmergencyBnB has currently 13,000 users in the world.
A Success Story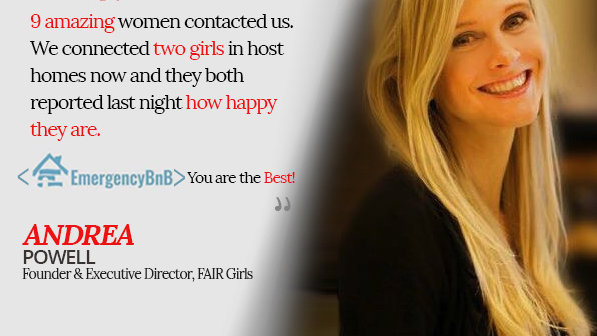 Andrea Powell is the founder and executive director of Fair Girls DC. Fair Girls works with the victims of human trafficking. Fair Girls identifies victims, helps them out of their situations, helps them learn skills to be independent, and finally finds them places to live. Fair Girls recently used Emergency BnB to find two girls a home and the girls are now safe and happy.
How You Can Help
The world needs more stories like Andrea's. Sign up to host someone who needs a place to stay at emergencybnb.com.
About the Author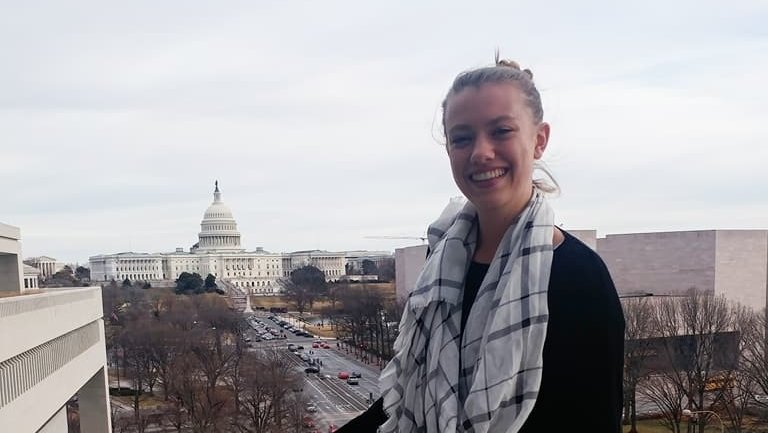 Allison Goulden is a junior at Juniata College where she is majoring in Political Communication. She is the spring intern at Shout! News.