Although travel guides pitch it as "a still relatively undiscovered destination and one of the few places left in the world where you can truly go off the beaten track," and analysts advise its Prime Minister to "plays his cards right," in order to "cash in" from regional powers competition, natural resource-rich Papua New Guinea is in fact facing existential challenges.
The country's recent economic decline unfolded against a background of weak institutions, poor governance and widespread corruption, prompting the Economist Intelligence Unit to warn of the possibility of swift and disorderly political change.
The following current or short term events risk triggering that disorderly change.
- Ongoing civil unrest in resource rich provinces;
- Discontent toward the lack of social or economic benefits that the population expected to receive from natural resources extraction projects (liquefied natural gas (LNG), copper, gold), which has led to flare ups of violence;
- Discontent toward the lack of transparency on government spending and inadequate investments in health and social welfare owning to the rampant corruption and mismanagement of funds;
- An independence referendum will take place in the province of Bougainville in June 2019. A vote in favor of secession is a strong possibility followed by unilateral declaration of independence and prompting a confrontation with the central government.
The outcomes of these events could lead to the collapse of the state.
A public health expert who recently returned from the country described to Shout! News a very fragile state which remains fiercely tribalistic with epidemic levels of violence and large proportions of the country that are extremely difficult to access.
The expert also expressed concerns over the status of women, which remains one of the poorest in the world. Papua New Guinea's Gender Equality Index is lower than Afghanistan and Chad. Only Yemen is ranked lower.
Also: Large foreign companies from the extractive sector are operating in Papua New Guinea, as Total (France) and ExxonMobil (US). Some have been embroiled in the population's discontent towards natural resources projects. ExxonMobil confirmed that an attack occurred in June on the Angore pipeline in Hela province, which is under construction, in the latest bout of unrest (Economist Intelligence Unit).
Be smart: The country has a unique history. Its isolated populations were brought in contact with the outside world only in the 1930s, an encounter depicted in the documentary "First Contact".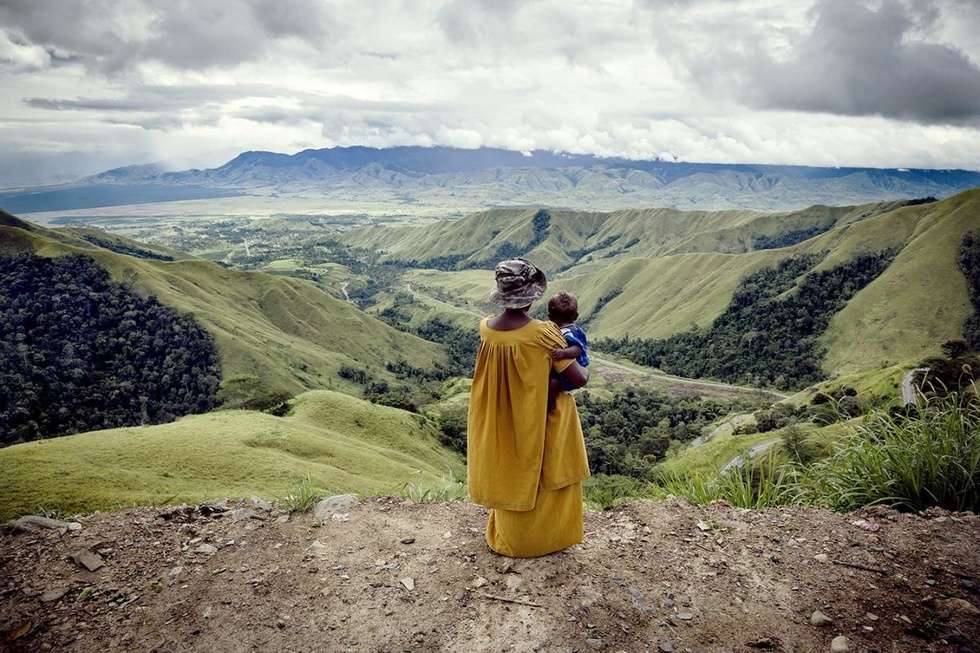 A woman holding a child looks down the valley from Kassam Pass, in Papua New Guinea's Highlands, an isolated region where some people must walk several days to reach the nearest road.
Human Rights Watch/Vlad Sokhin/Panos
Note: The statistics (70% of women will be raped or assaulted in their lifetime) in the header GIF visual is for Papua New Guinea's capital city, Port Moresby.