Jose Luis Jimenez had resided in the United States for 44 years before being deported back to Mexico just last week. After a few moments back in a country he no longer called home, he jumped out of a bridge in Tijuana and killed himself.
---
According to testimony gathered by the local press, Jose Luis screamed in anguish before jumping to his death. He didn't want to go back to Mexico.
Jose Luis' story adequately reflects and exemplifies the drastic changes on immigration policy implemented by the Trump administration. But his case is not unique and, probably, will not be the last.
Trump's harsh comments towards immigrants have the hispanic community on alert, and with good reason. Since taking office, Donald Trump has made good on his campaign promise to harden the United States' policies regarding illegal immigration.
What's going on?
Yesterday, the administration sent memos to federal agents that will dramatically change the way the country deals with ilegal immigration.
The memos, signed by John F. Kelly, the Secretary of Homeland Security, unveiled Trump's plan to detain and deport thousands of undocumented immigrants, add more than 10,000 immigration, border patrol and customs agents to enforce immigration law, and begin the planning of the border wall.
Who will be deported? According to the memos, federal agents will "no longer exempt classes or categories of removable aliens from potential enforcement."
This entails that immigration agents are now authorized to remove any persons charged with or convicted of a criminal offense, and, additionally, anyone already sentenced to deportation, regardless of whether they have a criminal record or not.
Another key aspect of the new policy, and one that will surely go under scrutiny by the courts, are the changes to a program called "expedited removal". Under it, immigration officers are able to bypass due process protections only when an immigrant was arrested within 100 miles of the border and had not been in the U.S. for more than 14 days. That means that they were not entitled to have a court hearing.
With the new rules, the time has increased to two years and it doesn't matter where the immigrant is arrested.
Is all of this legal?
It dependes on who you ask.
Shout! contacted Latino Justice, a New York-based national civil rights organization, for comment on the new rules outlined by Trump administration.
According to Juan Cartagena, president of Latino Justice, the alterations regarding the immigration policy made by the White House are unconstitutional: "We are unequivocally opposed to this expansion of power granted to immigration officers. It doesn't make sense, it's unconstitutional."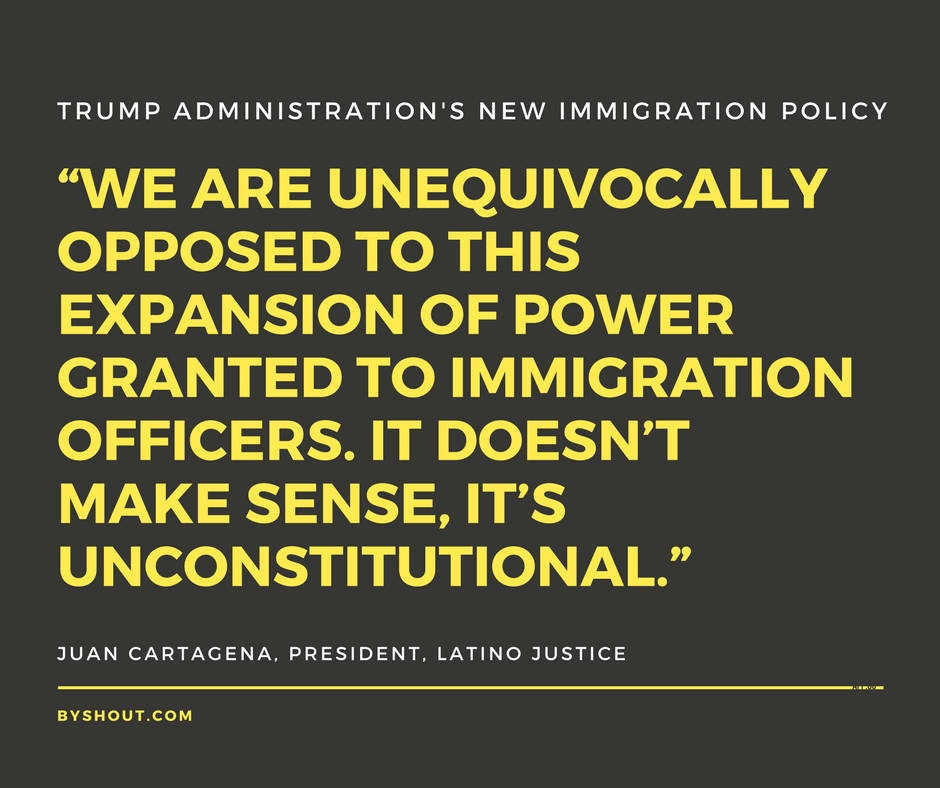 After being asked why he considered these measures unconstitutional, Cartagena expressed that the administration is "trying to deny due process to people accused of crimes. The constitution holds that due process applies to any person, and this is precisely what this issue is encompassed around, this legal process is not limited to legal residents or citizens only."
Another issue that concerns Latino Justice is the unwarranted entry of immigration officers to private homes. "We have sued the ICE (Immigration and Customs Enforcement) officers that entered homes without a court order. A few years ago, they agreed not to enter a residence unless consent was given in the resident's language," Cartagena said.
More specifically, in the case Aguilar v. ICE. A federal class-action lawsuit that was filed on behalf of 22 latinos that ended in 2013 with a settlement in which federal authorities agreed to establish new policies governing the conduct of ICE officers during raids. The central point of contention in the case was what constituted valid consent.
According to the settlement, immigration officers that require consent to enter a private home must obtain permission in a language spoken by the resident "whenever feasible."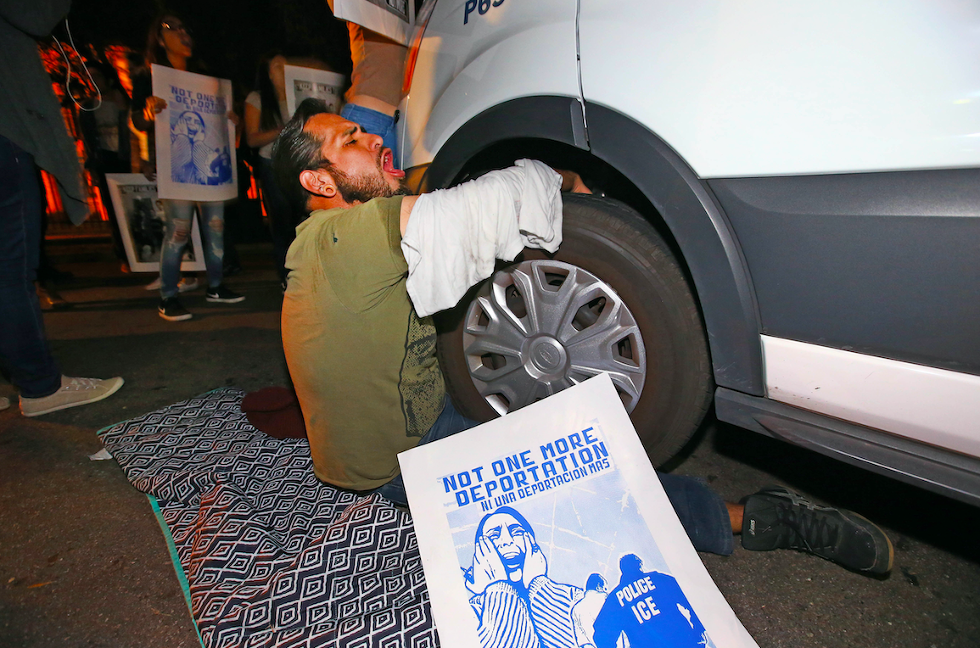 On the other side, the White House has said that mass deportations is not the goal they are trying to achieve.
In an interview with ABC, Sean Spicer, the White House press secretary, said that the priority for detention and deportation are individuals that are considered a threat or have committed crimes.
"The message from this White House and the DHS is that those people who are in this country and pose a threat to our public safety or have committed a crime will be the first to go and we will be aggressively making sure that that occurs. That is what the priority is," Spicer said.
What does the administration say about the legality of the new policy? They argue that ICE and other agencies have had the legal authority to deport non-citizens for almost two decades and just because they have not used that power it in the past, it doesn't mean they can't.
And Spicer is mostly right. In 1996, Congress passed a law that allowed the government to deport undocumented immigrants who have not been in the country for an extended period of time without allowing them to see a judge.
Is that law constitutional? We're about to find out.
About the author: Mauricio Holguin is a Mexican journalism student currently at The Washington Center in D.C. He's been a staff writer for Shout! since January 2017.
Contact: mholguin@alumni.unav.es