Scrolling through the political pundits' comments following the results of the mid-term elections last week--Democrats seized the House, Republicans kept control of the Senate--one retained my attention.
In just a few brushes, it painted the impact of the elections on the political landscape.
It didn't even come from an American observer. The author is a former Ambassador to the U.S. who served under three American presidents.
In his words:
"I was expecting more from Democrats, so elections results left me with mixed feelings, like the new political landscape.
On one hand Trump will control from the Senate all judicial nominations, immigration, border security, religion bans; women, minorities, and other special interest groups rights; foreign policy nominations; and many more items of his political agenda...
BUT on the other hand Democrats will have the power to investigate his business, his family and his administration officials, including asking IRS for his tax returns; suboena him, his sons and surrogates to question them about Russian presumed collusion in the 2016 Presidential elections; Congressional committees controlled by Democrats will also investigate about illegal payments and gratuities paid among others to Stormy;
No wonder why he [President Trump] called Nancy Pelosi last night right away to congratulate her for the Democrats take over of The House!!!
Trump will control the macro policy issues, and Democrats will control the micro issues, like Trump's personal and political life; as well as the budget, trade and appropriations...perhaps after all, this morning it could have been a rude awakening for POTUS...

Let's the DC version of the hunger games begin!"
Later the Ambassador described his political beliefs: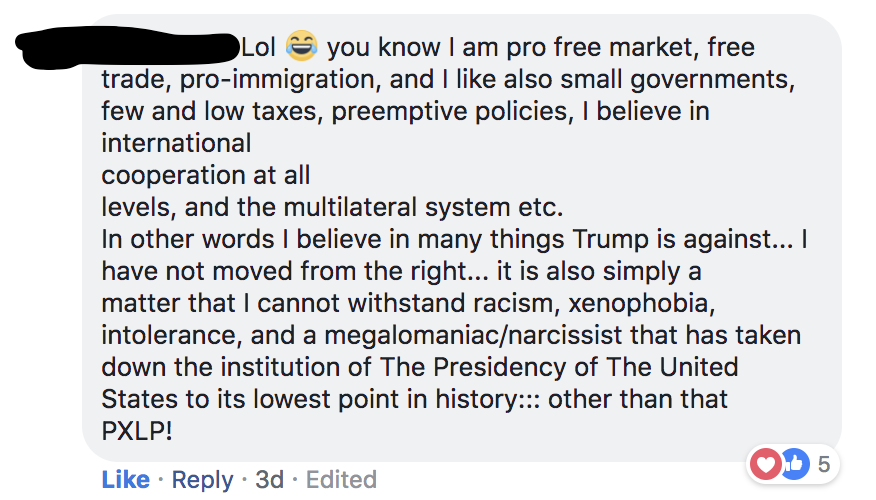 Photo: Screenshot via Facebook
"I am pro free market, free trade, pro-immigration, and I like also small governments, few and low taxes, preemptive policies, I believe in international cooperation at alllevels, and the multilateral system etc.
In other words I believe in many things Trump is against... I have not moved from the right... it is also simply a matter that I cannot withstand racism, xenophobia, intolerance, and a megalomaniac/narcissist that has taken down the institution of The Presidency of The United States to its lowest point in history::: other than that PXLP!"