1. The Syrian Democratic Forces (SDF) will announce the formation of an Armenian battalion. The unit is to consist of 50 fighters, Massis Post, an Armenian-American community newspaper, reported. The region under SDF control in northern Syria includes an Armenian community.
The new unit's insignia features an Armenian National Flag (Red-Blue-Orange} and Mount Ararat: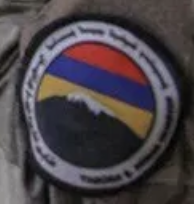 2. Jordan-Syria ties stumble over fate of Jordanian detainees, Al-Monitor reported. The two countries exchanged parliamentary visits in what was seen as a positive sign of a warming of bilateral ties, late last year. This recent development reflects the reality that Jordanian-Syrian ties have a long way to go before normalization.
3. Islamic State kills regime fighters across Syria, Reuters reported. These attacks reflect that although the Islamic State lost its last territorial enclave in Syria at Baghouz near the Iraqi border last month to U.S.-backed forces, it still has fighters holding out in the remote central desert and capable of striking.