Early morning, today (5:57am Aug 28, Japan time), Japanese citizens received emergency mobile alerts warning them of North Korean missiles flying over the northern island of Japan, Hokkaido. 
---
While media from the West have covered the politics of the current nuclear showdown between the U.S. and North Korea, we asked young people from Japan, South Korea, and the US what their thoughts were.  
These are their voices.
Anna Goto, a 21-year-old Japanese student studying International Politics at Toyo University said,  
I did not expect the missile to come that close. I thought that the Kim Dynasty, the governing royal family of North Korea, only needed easing of sanctions and financial aids. But I have become suspicious when Japanese media say it is an intentionally provocative action by North Korea when I think about the military exercise by 30,000 U.S. & South Korean troops. I imagine how scary to North Korea and the feeling we are provoking. Actually, I heard from my North Korean friends that they are thinking in that way too. My perspective has been changed by talking with my Japanese friend who have visited Pyongyang for three times."
Dong-Kyun Ko, a 24-year-old Korean student majoring in international trade and business and loving Japan, personally feel sorry while reading the reactions against the issue in the Korean website, Naver  (screenshot and its translation below).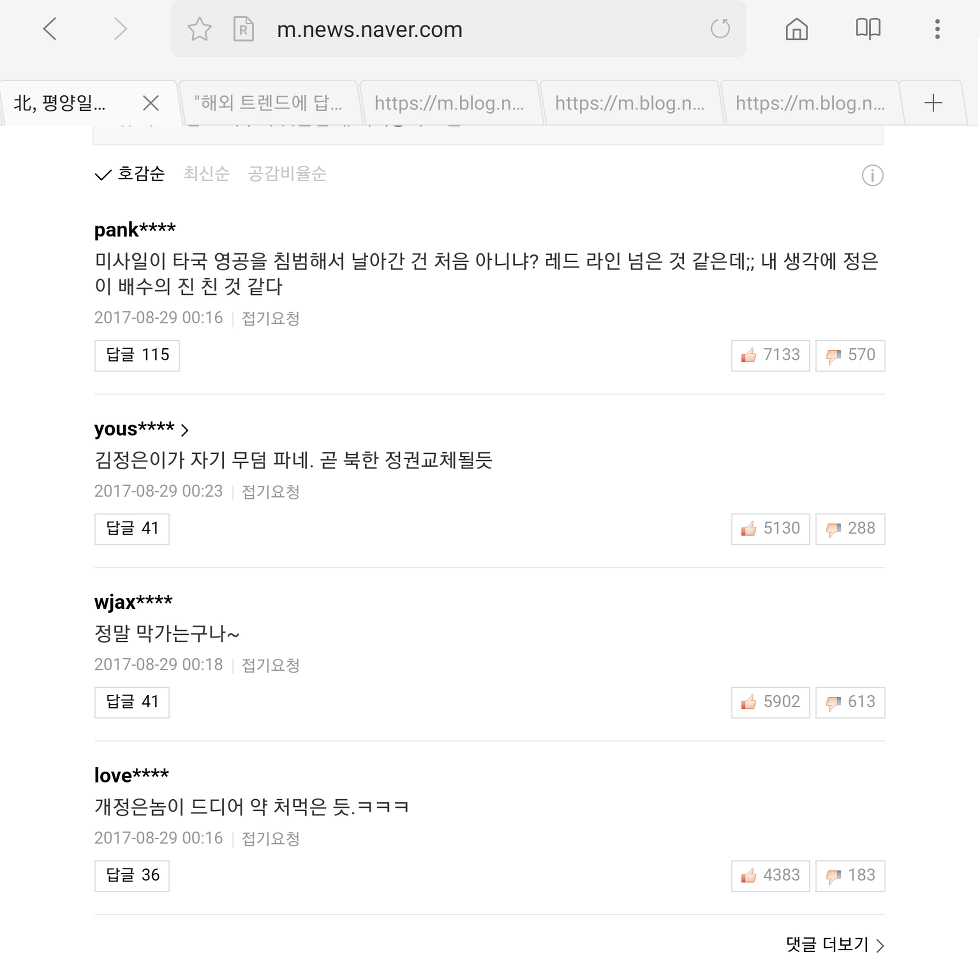 [Translation of screenshot messages above]
pank: Isn't it the first time that North Korean missile passed through other country's sovereign airspace? I think they cross the red line.
yous: Mr. Kim is digging his tomb.. the kim's regime soon will be changed.
wjax: He is getting crazy.
love: Finally he has a drug...
The young Korean student also shared his personal feeling: 
Since I am used to North Korea's aggressive actions, honestly I don't feel afraid at all. Furthermore, the reason of their actions, nuclear and missile tests, is really clear. Protecting Kim's seat. They know if they deploy something like real military actions could hurt citizens or invade some areas, and then he will lose his crown. I personally think/hope they do not shoot a shell to Japan also, because North Korea doesn't get anything from that. But actually I felt thrilled when I think about how Japanese people felt, while I was reading articles saying alarm was ringing and people were announced to protect themselves in buildings. The connection between Korea-Japan-USA should be stronger than now, but it will be stopped at certain points when majority Korean people think that Mr. Abe tries to change Japanese troops' powers by increasing military acting range over their original roles not for invade other countries, but for protecting Japan." 
Samuel Price, a 22-year-old American graduate, who majored in history stated, 
I think it is a very dangerous situation, to be succinct. North Korea has no right to fly missiles over Japanese air space. I think North Korea is a rogue state led by a violently reckless group of people. To be honest, I do not think Kim Jong Un is actually in charge of the state. I think it is mostly run by the top corrupt generals and the military/communist party officials. As an American, I think that we have played too big a role in the "far-east" as we call it. Japan can and should be allowed to grow its own formidable defenses and raise a new modern military. Instead of having huge numbers of American marines and soldiers based on Korea and Japan, we should support both these countries with advanced training and advisors. As a final answer, I believe the South Koreans, Japanese, and Chinese, will eventually have to decide to cooperate in order to change the situation without instigating nuclear war, and massive death on all sides. It is a difficult situation. We Americans tend to have a detached view of things until they directly affect us here in the mainland. If the North Koreans ever actually attack us directly, I believe that we would respond directly, but I do not think it would be good for any people living in the far east. When dealing with an erratic and reckless person, Mushin and Judo are the best options." 
Hibiki Takeda, another Japanese student (25-year-old) has done cultural exchanges between North Korean and Japanese students since 2014, visited North Korea's capital Pyongyang several times, and had conversations with the local people in North Korea. He posted his thoughts on his Facebook page. This is the original post.
I asked follow up questions and these are his answers: 
 Personally, I was not surprised at or scared by the missile launch because if the missile impacted to Japan, the US allies did not take it lying down. I don't think it's a smart way for the Japanese government to promote the sense of danger to civilians, but the test missiles have done at last. The reason why Democratic People's Republic of Korea (DPRK) shot missiles is that she wants a negotiation and a treaty with the US, but the US does not allow her to do unless she abandon nuclear weapons. DPRK is afraid of not being able to keep the political power like Libya which was overthrown by the US in the past. To solve this issue, it is necessary that the US make a time for DPRK, but if it were solved, 1/3 of the US bases in Japan and half of the US bases in Republic of Korea would not be needed anymore, and there is no national interest to the US. This chaotic instability is how to keep the balance of Northeast Asia in the current situation. To make the truly peaceful and stable world, each state tries to have conversations without seeking only national interests or accusing. Individually, we all are human."
Appreciation to my fellow Millennials for sharing their voices and perspectives!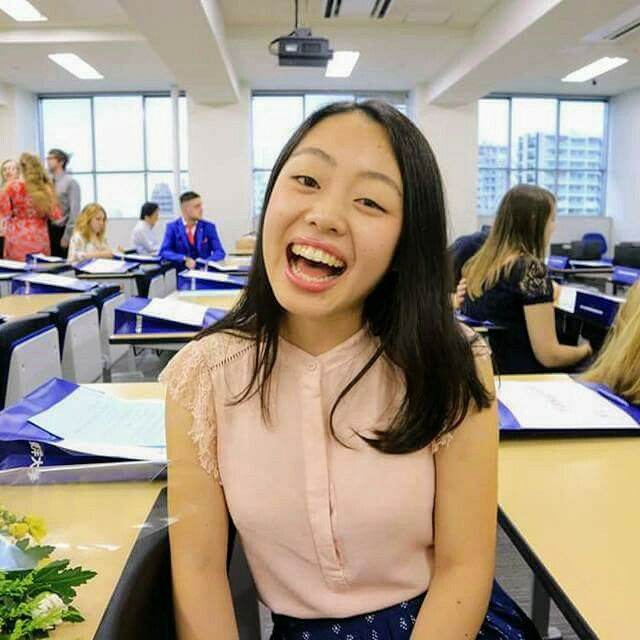 Ami Kumazawa is a Fall 2017's Shout! editorial intern and a senior-year student majoring in Regional Development Studies at Toyo University in Tokyo, Japan. 
Ami recently completed a one-year exchange program at Lindsey Wilson College in Kentucky, with a focus on Psychology and Counseling. While in America, she also applied her knowledge of and skills in Mental Abacus, a calculation system, to assist children with learning disabilities at a math school in California in the Summer of 2016. 
Her interests lies at the intersection of workforce development and cross-cultural  competences in the field of international business.  After her graduation next Spring, she will be working as a Human Resources consultant and provide cross-cultural training to employees from various industries. She enjoys listening to and sharing about authentic voices from countries around the world in the hope to foster mutual understanding and dialogue. Instagram @ppl.ami.