He's neither a billionaire nor a TV star, but his populist rhetoric and charisma has put him on the front seat towards next year's presidential election in Mexico. And that's bad news for President Trump.
---
Andrés Manuel López Obrador, commonly known as El Peje, has exploited Trump's harsh rhetoric towards Mexicans to boost his third presidential bid after coming up short on the last two.
During a press conference yesterday in Washington DC, El Peje said that Peña Nieto has let himself be "submitted" by President Trump and guaranteed that he will not tolerate a US-Mexico relation "based on subordination", because Mexico is a "sovereign nation, not a colony."
Right now he's leading on almost every poll. It's still very early — the election will be held on July of 2018 — but if he manages to avoid gaffes and continues to take advantage of the many corruption scandals in President Peña's party, surging gas prices, and the Trump phenomenon, he will continue to have an edge.
Ironically, El Peje shares Trump's campaign style and message: he has portrayed himself as a men of the people that tells it like it is and will defy the political elite to give power to the working class.
Not to mention his bitter relationship with the press. "[Mexico's media] has turned into a cottage industry were journalists are paid to attack me," he proclaimed yesterday.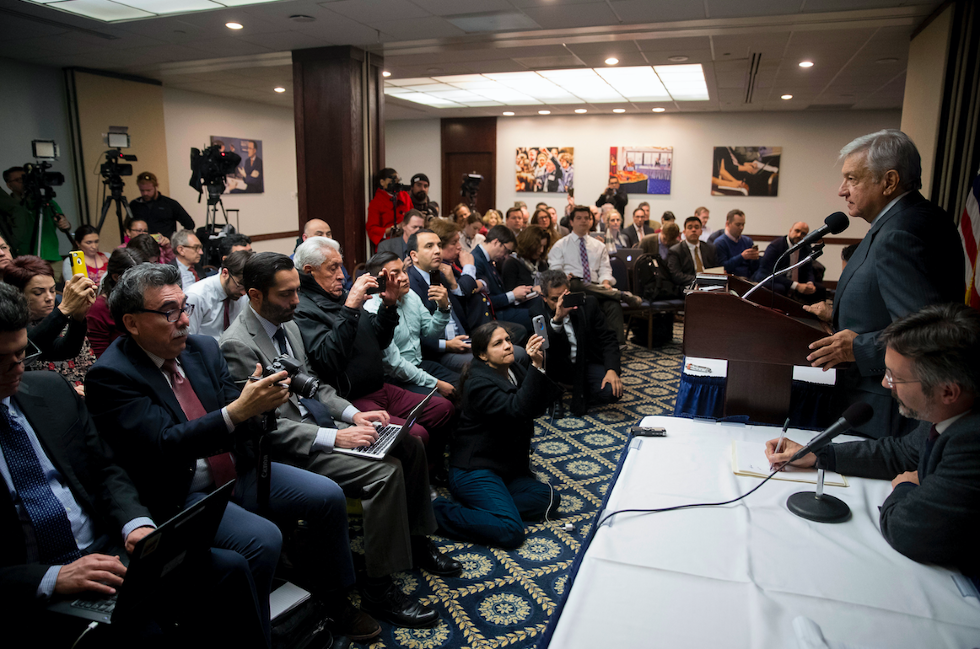 His attacks on Trump
Aside from his promise to not be submitted by Trump, López Obrador categorized the blaming of immigrants as "fascism".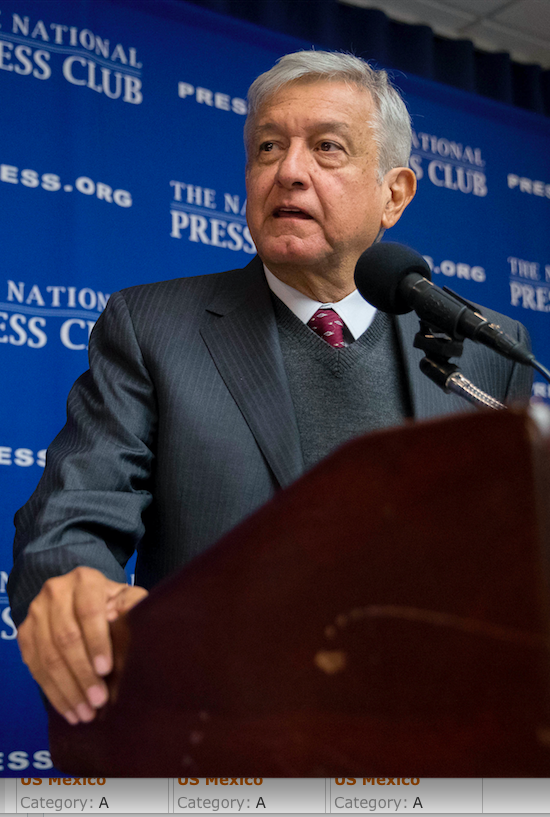 During his press conference at the National Press Club he argued that Trump's campaign to blame migrants for America's problems is "unjust and inhumane."
He promised that should he win, the fifty Mexican consulates in the U.S. will become legal defense offices for migrants. And also warned the Trump Administration that if they continue their "persecution" of migrants, he will "proceed legally in the United Nations."
Regarding the NAFTA renegotiation, he has said that the Mexican government should not rush into the negotiation and expects that they will last until he becomes president.
What are his chances of winning?
Lopez Obrador has been the most prominent politician on the left for more than a decade but has failed to capitalize on his popularity because of his continuos strife with the media and the country's most wealthy individuals — several of whom funded his political rivals in the past.
He might be leading in the polls, but non of the major parties have an official candidate yet.
Not to mention that like Trump, he's a very polarizing figure. Former President Felipe Calderón deemed him "a danger to Mexico" and opinion leaders have criticized him for his efforts to undermine Mexican democracy after his loss in 2006.
"López Obrador's lack of consideration to democratic institutions and rule of law seriously endanger civil peace in Mexico," said Spanish newspaper El Pais at the time.